We're about to enter the final quarter of 2017, and the relevance and importance of social media are at an all-time high. It has become an indispensable part of our digital communications strategies and delivers measurable results in branding, leads and sales.
The world of social media may be dynamic and constantly evolving, but one thing always remains constant: the steady pattern of growth. In fact, social media users now number 2.8 billion globally. And businesses are clamoring to get a piece of the action.
When it comes to a saucy bowl of pasta or a perfectly cooked steak, people are willing to wait in (long) lines for a taste of their favorite comfort foods. Rolling out soon, wait times on Google Search (and coming soon to Maps) shows you the estimated wait at your favorite restaurants. Now you can decide whether that cronut is really worth an hour wait or plan ahead to get your fix at a time when you can avoid a wait entirely.
https://blog.google/products/maps/skip-line-restaurant-wait-times-search-and-maps/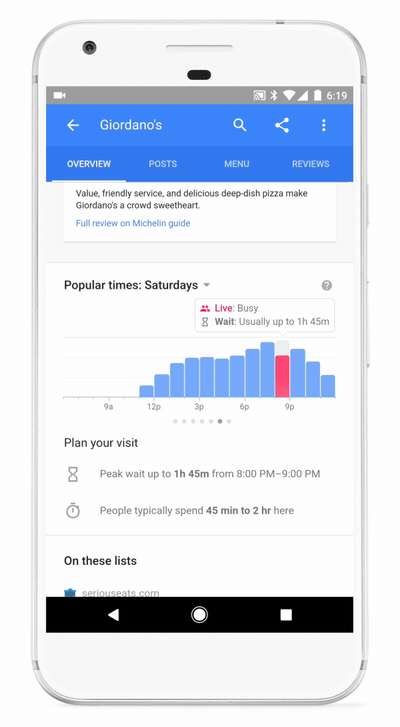 Google offers a wide range of display and video ad formats, or creatives, across the AdWords, DoubleClick, AdSense and AdMob platforms. Now you can access essential information about all of these formats from a single location to easily compare and find formats that best fit your needs.
Want to understand how your display campaigns compare to the rest of the industry? Or how different ad formats and sizes perform compared to each other? This tool lets you pull up-to-date industry benchmarks to help you better plan and measure the success of your display campaigns. Whether you're after average expansion rates for automotive creatives, expected Rich Media interaction rates for retail creatives from France or just the average click through rate for Entertainment ads from the US, we hope that you'll find this a truly useful resource and add it straight to your bookmarks bar!
Don't make changes to your creative and branding until you know you're reaching the right customers—those that have the most high value for your brand. To do this, you need to truly understand who your audience is, and the best way of interacting with them. Today, it's the brands that are able to drive CLV for the right customers that will see long-term success.
Don't get left behind: Return on ad spend is out, Customer Lifetime Value is in
The entrepreneurs who stuck with Silicon Valley learned four big lessons from the dot-com crash
that still guide business thinking today:
1. Make incremental advances
Grand visions inflated the bubble, so they should not be indulged. Anyone who claims to be able
to do something great is suspect, and anyone who wants to change the world should be more
humble. Small, incremental steps are the only safe path forward.
2. Stay lean and flexible
All companies must be "lean," which is code for "unplanned." You should not know what your
business will do; planning is arrogant and inflexible. Instead you should try things out, "iterate,"
and treat entrepreneurship as agnostic experimentation.
3. Improve on the competition
Don't try to create a new market prematurely. The only way to know you have a real business is
to start with an already existing customer, so you should build your company by improving on
recognizable products already offered by successful competitors.
4. Focus on product, not sales
If your product requires advertising or salespeople to sell it, it's not good enough: technology is
primarily about product development, not distribution. Bubble-era advertising was obviously
wasteful, so the only sustainable growth is viral growth.
These lessons have become dogma in the startup world; those who would ignore them are
presumed to invite the justified doom visited upon technology in the great crash of 2000. And yet the
opposite principles are probably more correct:
1. It is better to risk boldness than triviality.
2. A bad plan is better than no plan.
3. Competitive markets destroy profits.
4. Sales matters just as much as product.
Zero to One – Peter Thiel
Digital advertising saw $72.5 billion revenue in 2016, a 22% upswing from the previous year.
Step aside, TV and desktop: Digital advertising revenue surged nearly 22% to $72.5 billion for the 2016 calendar year, up from the $59.6 billion reported in 2015, the Interactive Advertising Bureau said Thursday in a report prepared by PricewaterhouseCoopers.
Although it marks eight consecutive record breaking years, the IAB's report represents the first time mobile has overtaken desktop spending, and the first time digital as a whole has passed TV ad spend.
Here are five takeaways from this year's report.
TV is no longer No. 1 in ad spend
The IAB began recording digital ad spend in 2004 and since that time, it has never surpassed TV in the United States — until now.
TV captured roughly $71.3 billion in domestic revenues in 2016, according to eMarketer, just under digital advertising's $72.5 billion in the IAB's digital ad revenue report.
IPG Mediabrands' Magna has also recently concluded that digital ad spending outstripped TV last year, when TV ad sales in the U.S. generated $67 billion, according to Magna. In its report, Magna said packaged goods companies were concentrating television spending on fewer brands and products, and even launching some new products without national TV campaigns.
Indeed, digital video hit a record $9.1 billion in 2016, a 53% upswing year-over-year, the IAB said. On mobile, video revenue skyrocketed 145% from the previous year to $4.2 billion.
IAB: The media has overstated the scale of the so-called duopoly
Last year, Facebook reported $27.6 billion in global revenue while Google reported $89.6 billion.
"You need a great experimental design that will produce two things: growth and insights," says Chris Goward, founder and CEO of WiderFunnel, a digital agency focused on conversion optimization. "If you view your optimization program as a strategic method for learning about your customers and prospects—for truly understanding their mindset—rather than a tactical tweaking program, you can take a broader perspective and find the gains in every test."
No one knows anything until they test. That's one of the basic truths of the digital world, and it's a compelling reason for testing everything. When you take that mantra a step further and begin celebrating failures, there are no orphans and, ultimately, everybody wins.